Chris Brown (or his representatives) finally realized that the proper (or more business-savvy) move was to withdraw his name from the list of nominees for two Nickelodeon Kids' Choice Awards. (There are now two big blank spaces on the "ballot.") It spares a potentially very awkward moment on the broadcast since he was probably in contention, having won last year. Nickelodeon had refused to remove him, saying that kids chose him as a nominee months ago. They proclaimed that they didn't want to interfere with the process.
Uh huh. Because you know, the choice of these awards is sacrosanct in our nation. Or not. Because it turns out that the kids only sorta picked the nominees.
The actual process goes something like this: Nickelodeon employs a pollster, which polls kids and comes up with a national sample. (Just how old these kids are, and whether or not they are given suggestions for possible nominees, I was not able to determine. Nickelodeon understandably wouldn't give details to a mere blogger.) Then Nickelodeon decides which are the final four nominees based on the sample.  
"The kids who vote will ultimately decide who wins in the category," Nickelodeon has said. But of course, since voting is done at their website, anyone who can log on and click buttons will be able to vote. Thought balloon: interns across the nation directed to sit at a computer all day and cast votes for their employers' nominated clients.
This process is dubious enough since Nick can then favor their own shows and stars, but there is another questionable aspect for a network that is geared for ages 6-14 and rarely has an episode of any show that goes above the TV-G rating. In what I can only guess is an attempt to be appear in the vanguard, Nick (a part of MTV's sphere, owned by Viacom) has chosen many questionable nominations over the years -- namely tv shows, movies, or actors whose only movies that year, that were rated as inappropriate for preteens. But this year they have really raised the stakes.
I guess the network feels they have to do something to bring in the dollars, I mean the viewers. While poking around the internet for info, I saw many a message board with arguments as to whether or not the KCAs were worth watching, and there were many who thought they were "lame" but others who proclaimed them as "edgy" -- now the thought balloon has Nick interns trolling sites to post these accolades.
So I sat down to check out the list of nominees with my 10-year-old daughter. I was really not happy with what we saw. There are more than a dozen nominees in over half the categories that raise an eyebrow in my book.
Starting with tv noms -- there's Jason Lee on My Name is Earl. A funny show I hear, but not for kids. Lots of sex and inappropriate language. (e.g. In one episode, a character said she wants to "do it on a pinball table like Jodie Foster did in 'that porno.' " Not exactly for the grade-school crowd.) And America Ferrara in Ugly Betty -- a show that's also definitely not for kids.
And, come on, America's Next Top Model?! With bad enough language left in and all kinds of bleeping, as well as the sexy photo shoots... What kids are watching that show? But I guess it's heartening that the likes of Gossip Girl or Family Guy did not pop up.
I wasn't thrilled to see the Twilight book series nominated, as it's really for tweenagers and up -- but I can look past that one. Same for Michael Phelps -- my kids did not see the dopey pictures, miraculously -- plus, he was penitent -- so he still has a thumbs up in our house. (Oh and let me mention that my girl, Candace Parker, ( http://www.lovehateoprah.com/lovehateoprah/2009/02/parkers-priorities.html ) is a nominee, so we gladly cast a vote for her.)
On to the movies and there's Iron Man and The Dark Knight, both rated PG-13. (Can't believe the latter is not rated R -- I loved it, but no way is my 14-year-old seeing that film anytime soon.) For acting there's Will Smith in Hancock, Jim Carrey in Yes Man, Anne Hathaway in Get Smart and Reese Witherspoon in Four Christmases. All rated PG-13. Thank goodness Adam Sandler and Jennifer Aniston both appeared in kid-friendly movies this year. Maybe more innocent heads will prevail and they'll win.
In music, in addition to Brown, there is Linkin Park whose albums are listed, at best, for 13-year-olds. And T-Pain? His two most recent albums are listed as explicitly not for kids of any age as they have racist language and a "let me get you drunk so we can get it on" misogyny.
But wait! There's more! The gyrating hoochie mamas known as The Pussycat Dollsare nominated. Just run over to YouTube and check out any one of their videos and tell me if you want your 10-year-old watching women dressed like that, prancing around like that. And while you're there you can check out the video for the most egregious nomination: "I Kissed a Girl" by Katy Perry for best song.
O...M...G...!
I think not only is this nomination objectionable because of that song's content, but there are so many other choices that Nick could have made -- especially in a song category. With a gazillion possibilities they choose a song that has no place on the iPod of kids. Why not Perry's "Hot 'n' Cold"? Or even Pink's "So What?" Or Lady Gaga's "Just Dance"?
But no, starting fights or getting drunk on the dance floor isn't "edgy" enough -- gotta push that envelope if we want to make that money, er, uh I mean push kids into adulthood too fast, oh crap, I mean give kids a voice.
Suffice it to say, we will not be watching this telecast. I hope you'll tune out too.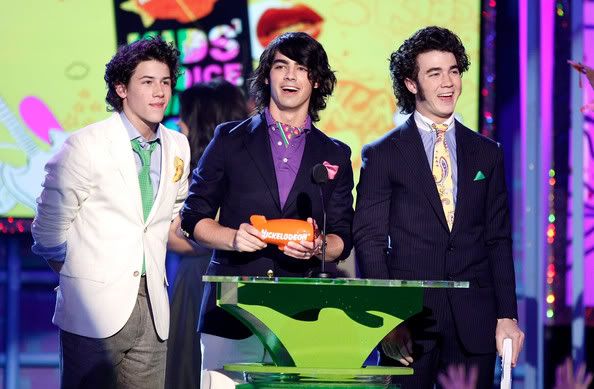 Hopefully the squeaky-clean Jonas Brothers will defeat the hypersexual Pussycat Dolls.