No, I don't watch Glee. I know there are moms who enjoy the show and think that if they watch it with their teens (or even pre-teens) that it often opens up a conversation, blah blah blah. I truly feel you're kidding yourself if you think there's no harm done in allowing your daughters to view this for-mature-audiences-only drama.
Yes, I tuned in last night because a high school couple was deciding whether to have sex for the first time. A topic this mom (and her husband) will be revisiting many times in the coming years, what with 3 daughters currently in high school and 2 more in middle school. One thing I know: We will not be relying on Hollywood to contribute anything substantial to this conversation.
Okay, so Glee is not as bad as say, Gossip Girl (whose first season I did watch, by myself). The writers of Glee went to great pains to make sure that the story line was truly earnest, ensuring that the couple's decision (spoiler alert -- not really) to go ahead and have sex -- that it was given "meaningful" thought and was under the "right" circumstances.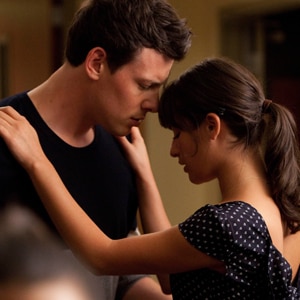 Rachel felt that four whole months of not fighting deserved celebrating -- by having sex for the first time.
Pure Hollywood wishful thinking. Who knows how many of those involved with the production of this show actually faced this decision in high school -- and maybe some of them did have sex at that tender age and emerged unscathed. But once again it appears to be retro-rationalization by those who want to justify their own risky, indulgent behavior.
All right, I won't play pop psych here. But come on -- why else would they produce such drivel? Because "teens are facing this every day" and they hope to "guide them to making good decisions"? Because having sex when you are still in high school -- when the circumstances are "right" and you do it in a "responsible" way -- is not a threat to your future? Wrong on all accounts.
I don't care how many forms of birth control you use (apparently both Rachel and Finn had things "covered") and I don't care how in love you think you are at the age of 16, 17, 18... Just because it "feels safe" and will be "unforgettable" because it's with someone you "trust" -- there are so many other issues surrounding being in a sexual relationship that go beyond that "one special night."
One character did give lip service to waiting (acknowledging that her pregnancy was not the only bad consequence) but Rachel relied upon the advice of a couple of friends/frenemies whether or not to enter a situation fraught with so many pitfalls. Where was the conversation with a parent? (The only parental involvement I saw in the show was the old story of parent-diasapproving-of-child-performing-in-a-play with other-parent-giving-their-resounding-approval.)
Amongst all the physical and emotional aspects to be discussed, where was the most important discussion about what will happen when she gets pregnant. Yes, when. I'm teaching my daughters that it's really the only way to be truly responsible, by approaching it as an eventuality not merely a possibility (which is easily ignored). All three "choices" are life-altering. Why would anyone in high school want to complicate their lives that way?
Sky-diving is about as risky as things get for the Duggar girls. They know premarital sex has far more uncertainties.
Instead, the show I watched with my daughters was (the apparently soon-to-be-retitled) 19 Kids and Counting. Though I may not totally agree with the extremely conservative path to marriage of that family -- e.g. I will allow my daughters to date, and kiss boys before they are married -- I would rather have my girls exposed to the admirable guidelines they follow. That potential boyfriends need to speak to the parents first. That suitors should have the same values they do. That a physical relationship is not the most important thing between a man and a woman, and is best put off until they are married.
I would rather have my daughters watch real young women who are being taught to fix their own cars and handle their own finances and save grown-up things for when you are actually a grown-up -- than any LA-LA Land fantasy.